Episode 48–Change Culture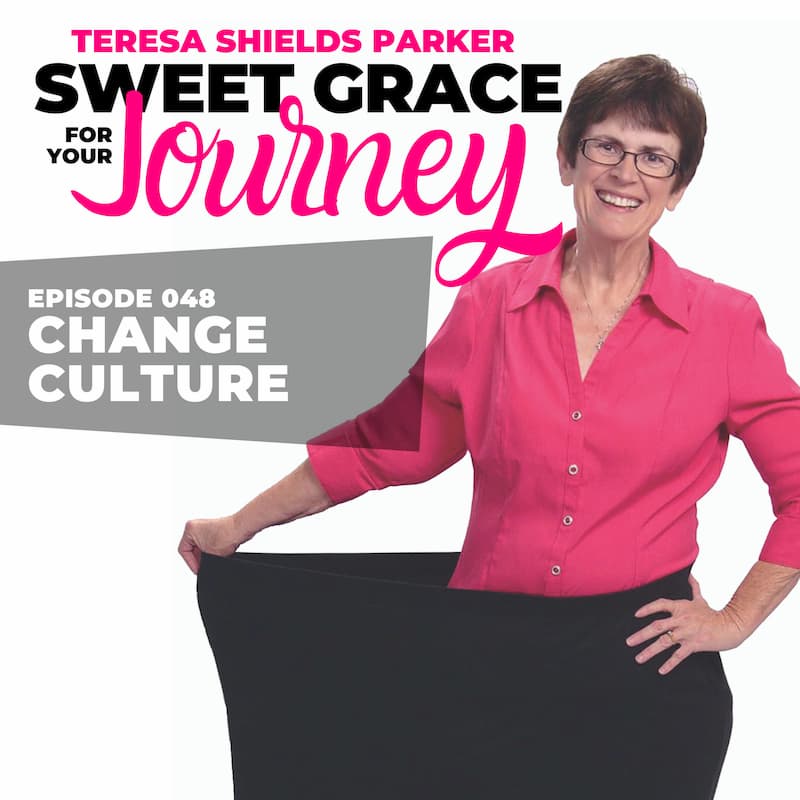 I hear the words cancel culture thrown around a lot, but I'd like to recommend instead of canceling culture, let's do what Jesus said. Let's change the culture around us. 
When used as a slang word to cancel someone or something means basically to turn your back on them, to disown them, to boycott them, to pretend they don't exist. Even writing those words saddens me. And yet if truth be told, there are things, people, situations I'd just as soon not have to deal with.  
Does that mean I want to cancel them? Not really. Jesus taught us to not conform to culture, but he didn't teach us to cancel culture. Instead He taught us to change or transform culture.  We are to be light in a dark world. We are to be salt that changes the taste of everything around us. We are to be a city set on a hill. We are sent to change the world around us.
Canceling culture is not the right way to go. Neither is going along with everything culture or society throws at us. So what is the right course for a person, who really wants to do the right thing? We must change culture, but more importantly, we first have to change ourselves. I can't help anyone change until I have first begun to change myself.
When I was contemplating talking about this subject one scripture kept popping into my mind, Romans 12:1-2. In the Amplified Bible it explains why we should not conform. "I urge you, brothers and sisters, by the mercies of God, to present your bodies dedicating all of yourselves, set apart as a living sacrifice, holy and well-pleasing to God, which is your rational, logical, intelligent act of worship. 
 "And do not be conformed to this world any longer with its superficial values and customs, but be transformed and progressively changed as you mature spiritually by the renewing of your mind focusing on godly values and ethical attitudes, so that you may prove for yourselves what the will of God is, that which is good and acceptable and perfect in His plan and purpose for you."
Each phrase in this passage could be a message in and of itself, but first, let's also read it in the Message paraphrase. It says it more directly and to the point. "So here's what I want you to do, God helping you: Take your everyday, ordinary life—your sleeping, eating, going-to-work, and walking-around life—and place it before God as an offering. Embracing what God does for you is the best thing you can do for him. 
"Don't become so well-adjusted to your culture that you fit into it without even thinking. Instead, fix your attention on God. You'll be changed from the inside out. Readily recognize what he wants from you, and quickly respond to it. Unlike the culture around you, always dragging you down to its level of immaturity, God brings the best out of you, develops well-formed maturity in you."
These verses have been pivotal on my weight loss, as well as my spiritual journey. They go hand-in-hand. I could have lost weight without God's help. I done it many times before. But keeping the weight off, staying true to what God has shown me to do and not to do would never have been possible without submitting to His leading. It's commitment to Him that keeps me going.
1 Corinthians 6:20 TPT tells us that we were God's expensive purchase, paid for with tears of blood, so by all means, then, we are to use our bodies to bring glory to God!
There is a direct correlation between us being in a physical body and our walk with God. We are in a body for several reasons. One of those is that it is in this way that we are tested and tried. Our body has fleshly desires. If those are pursued in earnest to the exclusion of anyone or anything else, it will imprison us. So Jesus came to offer us a way out of the bondage of sin and selfish desires. 
We first have to be completely honest with God and choose to follow Him in everything. We must choose to turn over every rock where we've tried to hide things from Him. Then and only then can true transformation begin.
The truth is, God already knows what's under those rocks. You aren't hiding anything from Him, not even that stash of treats you have hidden in your closet. You are only trying to hide them from Him. Handing them to God is the first step to transformation.
Then as 2 Cor 3:18 TPT, says "We can all draw close to Him with the veil removed from our faces. And with no veil we all become like mirrors who brightly reflect the glory of the Lord Jesus. We are being transfigured (or transformed) into His very image as we move from one brighter level of glory to another. And this glorious transformation comes from the Lord, who is the Spirit."
We start the process by submitting to Him, but He continues the process as we move with Him from one brighter level of glory to another. In the Amplified version it says, "we are progressively being transformed into His image from one degree of glory to even more glory."
Overcomers Academy Link: https://TeresaShieldsParker.com/overcomers-christian-weight-loss-academy/