King David asked God a question I've asked myself many times. "Why am I discouraged? Why is my heart so sad? I will put my hope in God! I will praise Him again—my Savior and my God!" (Psalms 42:11 NLT). That's what we should do, but many times we don't.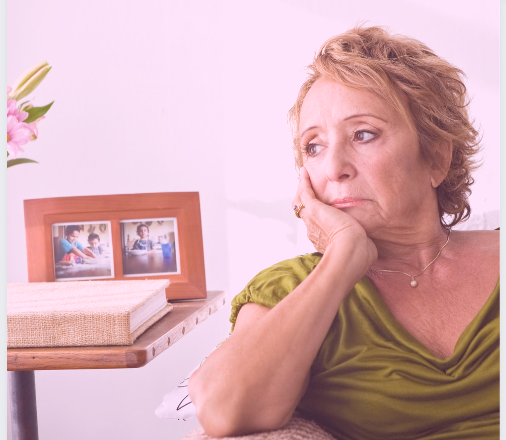 The word discouraged means to have lost confidence or enthusiasm, to be disheartened. In modern language that means to be beat down, gloomy, and dismayed.
When you are discouraged it's like you have been knocked down and can't get up even after the referee has counted to 10. If you do get up, it's to drag yourself to your bed and stay there. You have no energy.
Do-aholics Anonymous
Some discouragement we create ourselves by trying to do too much at once. I'm raising my hand here. How about you? I'm not only a recovering sugar addict, I also am a recovering do-aholic. Both my step-great-grandmother and my grandmother were do-aholics. I stayed with both of them for extended times in the summers.
They both worked from sunup to sundown.  They'd be working in the garden, fathering produce, breaking beans, hulling peas, feeding the chickens, collecting the eggs and doing anything else that needed doing.  
I got my desire to always be busy from both of these very godly women. Even in high school, I would go all day at school, fill my weekdays and nights, work on Saturdays, come home at noon, and sleep until I had to get up for church the next day. I was constantly on the go. So, I slept when I could work it in.
When Everything Came Crashing Down
That was the way I lived for many years until everything came crashing down on me. My mind had always been my best asset. Then it decided to stop working around 3 pm. I had always worked until late in the evening with no problem.
The doctor told me I had stage 4 adrenal fatigue. That meant I was stressed to the max. My mind was rebelling against me. I couldn't go all day and all night anymore. That was a time of major discouragement. I wanted to do anything I could to fix it.
However, my doctor told me I was doing everything the protocol says to do. I was exercising five days a week. I was eating correctly. I was not eating sugar and flour. Still, my stress hormones were totally shot.
Slow Down
The cure included taking supplements to build up my stress hormones and slowing down. Have you ever told a doer to slow down? It's like telling Martha to stop cooking supper for Jesus! I get it. If I was there I'd be thinking, "It's Jesus, of course, I'm going to cook Him a great meal. Of course, I wouldn't be lounging around at Jesus' feet. That's just crazy."
The Bible tells us the story in Luke 10:38-42 TPT. "As Jesus and the disciples continued on their journey, they came to a village where a woman welcomed Jesus into her home. Her name was Martha and she had a sister named Mary. Mary sat down attentively before the Master, absorbing every revelation He shared.
"But Martha became exasperated with finishing the numerous household chores in preparation for her guests, so she interrupted Jesus and said, 'Lord, don't you think it's unfair that my sister left me to do all the work by myself? You should tell her to get up and help me.'
Listen to Jesus
"The Lord answered her, 'Martha, my beloved Martha. Why are you upset and troubled, pulled away by all these many distractions? Mary has discovered the one thing most important by choosing to sit at My feet. She is undistracted, and I won't take this privilege from her.'"
This version uses the words exasperated and upset. She was also discouraged. She had planned a huge meal, but no one was helping her. Jesus saw the situation differently. He didn't care about what they were having for lunch. He was concerned with the souls of both Mary and Martha.
He saw that all the work Martha was doing was to gain praise from Him. He put her in her place and let her know there are more important things than working all the time to please people. He would have been more pleased if Martha had pulled up a seat beside Mary and drank in every word He was saying.
It Felt Impossible
Slowing down felt almost impossible for me, but God used it to teach me how to be a Mary. I learned how to sit in stillness and silence and listen to God. It wasn't easy, but it has been one of the best things I have ever done and still do today.
During my time with God, I clear my mind and then say, "Here I am, God. What do You want me to know today?" I listen for His still small voice. He always speaks to me, sometimes through a moving picture in my mind, sometimes through words or scriptures. I have finally gotten to the point where God knows He can speak to me any time and I will slow down and listen.
Why was I discouraged? Why was my heart sad? I was trying to do everything in my own strength and it stressed me out. God doesn't want me or you stressed out trying to prove to Him we can do it all. He wants us to stop and ask Him for His strength to be our strength.
Our Joy Returns When We Worship God
David started out Psalms 42 by saying, "As the deer longs for streams of water, so I long for you, O God. I thirst for God, the living God. When can I go and stand before Him?" (Psalms 42:1-2 NLT). He is discouraged, but He knows the only way to get himself out of the funk he is in is to worship God.
He knows what will help Him is to once again be filled with joy by worshipping God. "Now I am deeply discouraged, but I will remember You—even from distant Mount Hermon, the source of the Jordan, from the land of Mount Mizar.
"I hear the tumult of the raging seas as Your waves and surging tides sweep over me. But each day the Lord pours His unfailing love upon me, and through each night I sing His songs, praying to God who gives me life" (Psalms 42:6-8 NLT).
Accept Hope as a God-Given Truth
David told himself the answer for his discouragement in Psalms 42:5 and repeats it in verse 11. "I will put my hope in God! I will praise Him again—my Savior and my God!" (Psalms 42:11 NLT).
David's spiritual truth to overcome discouragement was hope, which led him to praise God. Hope will lead us to joy, which is one of the main things we need to combat discouragement. Paul said, "Let this hope burst forth within you, releasing a continual joy. Don't give up in a time of trouble, but commune with God at all times" (Romans 12:12 TPT).
We can let Him know that we trust Him and place our hope in Him by praising Him in the midst of whatever storm we are going through. God doesn't promise us an easy life, but He does promise us He will be with us.
For more on this topic, listen to Sweet Grace for Your Journey podcast episode 169: Why Am I So Discouraged? You can find it here: https://TeresaShieldsParker.com/podcast/ or anywhere podcasts are found.
Teresa Shields Parker is a Christian weight loss author, coach, podcaster and speaker, who has lost more than 250 pounds and kept it off since 2013.
Her books include: "Sweet Grace: How I Lost 250 Pounds and Stopped Trying to Earn God's Favor"; "Sweet Surrender: Breaking Strongholds"; "Sweet Journey to Transformation: Practical Steps to Lose Weight and Live Healthy"; "Sweet Freedom: Losing Weight and Keeping It Off With God's Help": "Sweet Change: True Stories of Transformation"; "Sweet Hunger: Developing an Appetite for God", and her most recent book, "Sweet Excuses: Stop Lying to Yourself & Start Losing Weight".
She also offers Overcomers Christian Weight Loss Academy and VIP one-on-one coaching program, more information on both is available under the weight loss tab. Don't miss her weekly podcast, Sweet Grace for Your Journey, where she shares tips from her personal journey of losing weight and discovering healthy living. Find that under the podcast tab and anywhere you find podcasts.