The word "Hallelujah" is not just a Christian exclamation. Like, "Well, Hallelujah. Great to see you!" It actually means, "Praise be to God" or "God be praised". In Bible times the worship leader would say, "Hallelujah" as a way to tell the people to, "Give praise to God." And the people in response would answer, "Hallelujah!" Their answer meant "We give God praise."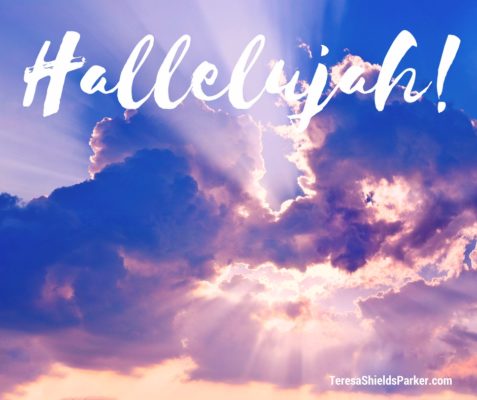 Any way you use it, the word means to exalt the One who is above all. It means to exalt the only One who sees past, present and future. He knows what we will do before we do it. It doesn't mean He will fix our mistakes, it means He will orchestrate more times to get us to make the right choices.
I know from experience, God gave me choice after choice after choice. He led people into my life at the exact moments I needed them to change my trajectory. I was headed down a path to certain death in the way I was eating, not moving and staying totally stressed and overwhelmed.
God kept giving me choices until one day, I made the right one and that changed everything! Because of His working in my life, I shout, "Hallelujah," at the top of my lungs. May my God be forever praised, lifted high and exalted. Thank You, God, for never giving up on me and always giving me a choice.
Your Choice
Today, I want you to know that He will always give you a choice as well. He's not going to make the choice for you. That's your part. He will make it plain and clear what the right choice is, though.
"Today I have given you the choice between life and death, between blessings and curses. Now I call on heaven and earth to witness the choice you make. Oh, that you would choose life, so that you and your descendants might live! You can make this choice by loving the Lord your God, obeying Him, and committing yourself firmly to Him. This is the key to your life. And if you love and obey the Lord, you will live long in the land the Lord swore to give your ancestors."1
The Key to Your Life
He gave the children of Israel a choice. Then, He told them the right answer. However, it was still up to them to walk out that choice by loving God, obeying Him and committing firmly to Him. He said, "This is the key to your life." The same is true today.
The huge word in this passage is "OBEY". We can say we love the Lord, but until we walk with Him in obedience, we are not loving Him. First we have true love and show it through our obedient actions and then, true life follows.
Obedience
Sometimes God shows us to follow a path that seems really hard, difficult, impossible.2  In reality, "humanly speaking, it is impossible. But not with God. Everything is possible with God." When we admit our frailties and weaknesses and ask God for help, He will help us. It's a Scriptural promise.

God said, "My grace is enough. It's all you need. My strength comes into its own in your weakness."3 Don't believe it's possible? I'm living proof that weak people can overcome impossibilities. At 430 pounds I was facing an impossibility of ever losing weight, but an even greater possibility of certain death if I didn't.
I decided to take Him at His Word. I handed my weakness to Him and began a faith journey of walking in obedience. With 260 pounds gone forever, I know beyond a shadow of a doubt His Word is true.
Folks, it's not that hard, really. Just surrender your weakness to Him. Then, love and obey by walking out your faith day by day. Have a great day and a marvelous weekend.
1Deut. 30:19-20 NLT
2Mark 10:27 NLT
3 2 Corinthians 12:9 MSG
Soon and very soon doors will open for #KickWeight, my six-month coaching class. There will be limited spots. Get on the waitlist now to be one of the first notified when doors open. It won't be long! Or check out Sweet Change Weight Loss Coaching Group. In October our focus will be emotional eating. Oh, and with Sweet Change, you get #KickWeight free. Isn't it time to let God do the impossible in your life too? Click either link to go to the page and signup TODAY!