It would take me most of the day to get out of my mind the picture of the extremely overweight man who would come almost daily to the pool.
It looked as if he had gained weight and his speedos tried to stretch to accommodate, but they were not doing a good job. If he wanted to call attention to himself, even his most private parts, he was doing a real good job.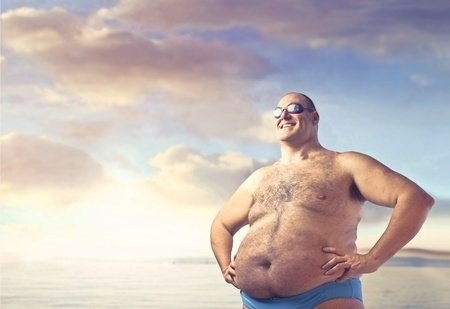 I would have never worn a bikini when I was morbidly obese. There's no place to hide! I wouldn't wear one today because of extra skin and well, I just don't want everything out there for public consumption.
In 99 out of 100 cases, no one pays any attention to what people wear in the community pool where I swim and water walk. We are a friendly group of fellow water travelers.
We don't care what people wear, although we do notice when someone gets a new suit and compliment them. Most only have one, maybe two suits at the most. So we get really used to each others' pool attire.
What we wear and how we look is not the important thing—the fact we are all there and moving, is.
As a matter of fact, the only other time I noticed what someone was wearing was when a very large woman came to the pool with a giant rip in her suit across her lower belly. You could see skin. It wasn't pretty.
I walked past her many times in the water trying to decide if I should say something or not. Finally I decided to slow down, introduce myself and make conversation.
In the course of it, she began saying this was her first time in many years in the water. She didn't even know if she had a suit to wear and then she found this one and it fit and she was so happy.
I didn't have the heart to tell her about the rip. I figured she'd find it when she took it off. And really what you wear in the pool shouldn't matter that much. We're there for exercise, not fashion.
Swimming and water exercise are great activities for those who are extremely overweight or have joint issues, like I do, because everyone is lighter in the water.
In the water, I can run. I can do lunges and squats. I haven't attempted running on land. I'm doing well just to walk!
Back to speedo guy. I go with the current, he goes against. So when he passes me I just try to look up at his face, smile and be grateful for the fact he's getting healthier and is faithful to exercise.
I like what one man said in a comment on Fat Men in Speedos: Why on Earth? "I'm not comfortable in speedos at all. I instead use shorts that cover my belly overhang … I feel more confident. I'm close to 500 pounds, and for sure we should not forget to enjoy the beach!"
This guy is choosing to focus on the positive, how to enjoy life and exercise no matter how large he is. And he's doing it by being cognizant of wearing things that help him enjoy life without drawing negative attention.
Those with weight issues who try to dress like they don't have them just cause others to see their problem areas even more.
Overweight people should not sequester themselves and drop out of society. Looking good doesn't always mean one has to be a certain size. We can look our best without wearing the latest fad or fashion. We can take care with the way we dress to accommodate whatever body size we have, large or small. we can accentuate our positive attributes rather than call attention to those that need some work.
I will attempt to close this with a spiritual twist. Think I can do it?
When we come to Jesus, He accepts us just as we are.1 He doesn't fret over the image we portray to Him. He doesn't fight to get the negative picture out of His mind.
When He sees us, He sees our potential—what we will become. Not where we are now. He knows what we are today, but He is focused on the future and how to get us there.
He sees what we have no inkling of. He sees the dream we don't even know we have. Then, He gives us His power to accomplish the transformation.
"Never doubt God's miraculous power to work in you to accomplish all this. He will achieve infinitely more than your greatest request, your most unbelievable dream, and exceed your wildest imagination! He will outdo them all, for His miraculous power constantly energizes you."2
My Jesus accepts where I am, smiles on me despite my failures and gently leads me to where I need to be. He says, "Please, don't try to clean up your life first. Just come as you are.∗ We'll work on the rest together."
For me, one major place He has led me is towards a healthy lifestyle—body, soul and spirit. 
If God is leading you to become free and healthy, please consider getting help. I have many resources, books, coaching groups and courses here on the website that will provide encouragement, support and accountability you need on the journey. Some are even free.
"Then Jesus said, 'Come to me, all of you who are weary and carry heavy burdens, and I will give you rest.'"4 In The Message it says, "I will help you recover life."
We can come to Him just as we are, with all our difficulties and imperfections, even extremely overweight, even wearing speedos or bikinis. He's ready to transform you from the inside out.
NOTE: Speedos not necessary in any of my coaching groups.
1 John 6:37 NIV
2 Ephesians 3:2o TPT
3 Luke 5:32 NIV
4 Matthew 11:28 NLT