The real giant in David's life wasn't the hairy Philistine named Goliath. David defeated him easily. He had experience overcoming big hairy things likes lions and bears. Goliath wasn't really even that big of a challenge.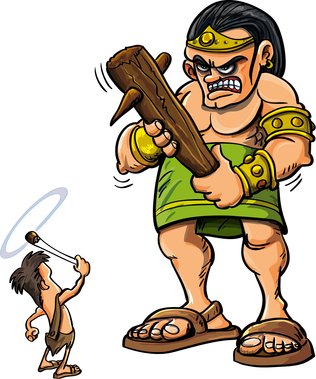 No, David's real giant was a lot smaller and probably smelled a lot better, too. Of course you know I'm talking about Bathsheba. He saw her and he wanted her. He knew she was married. He knew it was wrong. He knew it was wrong to call her husband back from war. He knew it was wrong to send him back and order the commanders to send him back into war to be killed all so no one would know his sin.
David admits his sin but it not without consequences. The child Bathsheba is carrying dies, David's wives are unfaithful.
I so relate to David. See I had a love affair. Yep, his name was Sugar. And he tasted so good, I didn't want to give him up, not even when God told me to.
Of course I'm talking about processed sugar and other foods I thought I had to have just to make it through another day.
Indulging in Sugar had its consequences as well. I became super morbidly obese, had high blood pressure, diabetes and a heart that was going to give out if I didn't stop eating.
I was successful slaying some pretty big difficulties however I had this love affair with comfort food that like David nearly took me under. One cannot weigh 430 pounds and function very well. My health was failing. My brain was foggy. And I was miserablee
I used sugar for anything and everything. It anesthetized emotions. Kept them at even keel. It comforted, protected, helped me celebrate, rewarded me when I had worked hard, helped me hide.
Pretty much I didn't need a counselor, I had Sugar. Sugar gave me a high I didn't feel I could get anywhere else.
I realized, too, that sugar insulated me any time I felt rejected emotionally. Because of low self-esteem, I felt rejected constantly. A person wouldn't have to reject me they could just fail to say hi to me and I'd feel rejected. I could walk in the house and my husband would be watching TV and not speak and I would feel rejected.
Instead of processing through this or talking about it, I would just eat something made with sugar or flour and all was fine.
My story is long and involved. To read it more in depth, get a copy of Sweet Grace at the link below. Suffice it to say, I joined a harmful life patterns group. It was during one of the sessions that he shared his story about being a 25-year sober alcoholic. During his talk he said alcohol is just liquid sugar. For some reason that statement clicked in my brain.
I remembered all the times I had cried out to God about "this mountain of flesh" on my body. I would ask Him what to do and He would say, "Stop eating so much sugar, don't eat so much bread, eat meat, fruits and vegetables."  I have that in my journal as far back as 1977 and at least five more times after that. I felt I could never do that and so I dismissed it.
The reason I felt I couldn't do it is because whenever I would start in that direction, if I would eat just one bit of something sweet and bready, I'd be right back lusting after it again. Once retriggered I couldn't mitigate my desire for it.
But now I was connecting the dots. If an alcoholic could get free of alcohol by stopping drinking maybe I can get free of sugar if I stop eating it. That was all I had, a quiet whisper in my heart that this was the answer I'd been looking for and a huge divine desire to go in that direction.
And so I did it. I stopped eating sugar. I had already decided whatever I did this time would be a lifestyle change, not a diet.
It was the easiest hard thing I've ever done because, I began to crave freedom more than I craved sugar
Starting on this journey made me realize how bound to sugar I had become.
A favorite scripture of mine says, "All things are lawful for me but not all things are profitable. All things are lawful for me, but I will not be mastered by anything."1
Sugar had become my master and God knew it. Nothing escapes Him. Isn't it interesting that David thought he could hide from God until the prophet Nathan confronted him. God knew every time I went to sugar instead of to His precious Holy Spirit to comfort and sustain me. I couldn't hide from God.
One thing I've learned on this journey, God is my comforter, not food.
David says, "O Taste and see that the Lord is good."2 He says, "Your words are sweeter than honey."3
David learned God is the only one who is always there comforting and caring.
Self-effort trying, trying, trying to fix my problem and failing miserably.
God gave me the way to fix it and stood ready to help if I asked
I came to end of my efforts and admitted to him that I had a major weakness.
I surrendered sugar, laid it on the altar with no intention of ever picking it up again.
He who sees everything saw the intention of my heart. I was leaving nothing on the table in case He didn't come through for me, in case I needed sugar again.
I said, "I'm yours 100 percent. All my eggs are in your basket." I started walking in obedience and his grace became the wind at my back propelling me forward.
As I did that, He brought all His resources to bear for me. Romans 8:11 says the same power that raised Christ from the dead is available to me and you. 2 Cor. 12:9 says when I am weak, then He is strong! I believe when I try to be strong, it ties his hands.
David didn't win the battle with Bathsheba. He fell hard. There were staggering consequences, but in the end he cried out to God, in repentance.
His surrender to God is recorded in Psalm 51, especially verses 10-12, "Create in me a clean heart, O God. Renew a loyal spirit within me. Do not banish me from Your presence, and don't take Your Holy Spirit from me. Restore to me the joy of Your salvation, and make me willing to obey You."
My surrender to God wasn't quite as eloquent. I mainly just said, "I can't handle this any more, Lord. I give up. I admit my weakness. I need your strength. I don't want sugar any more. I only want You, God. You are first without a backup plan."
And I believe that's when God smiled and said, "Well, now I think we've got something we can work with."
1 1 Corinthians 6:12
2 Psalm 34:8
3 Psalm 119:103
Teresa Shields Parker is a wife, mother, business owner, life group leader, speaker and author of Sweet Grace: How I Lost 250 Pounds and Stopped Trying to Earn God's Favor and Sweet Grace Study Guide: Practical Steps to Lose Weight and Overcome Sugar Addiction. Get a free chapter of her memoir on her blog at Teresa Shields Parker.com. Connect with her there or on her Facebook page.