I wish you enough … isn't that what we all want, just enough to get by? And yet, God tells us He has so much more than just enough, abundance, overflowing life. It really seems impossible to attain though when you feel like you are barely scraping by. Today on my 63rd birthday, though, I wish you more than enough.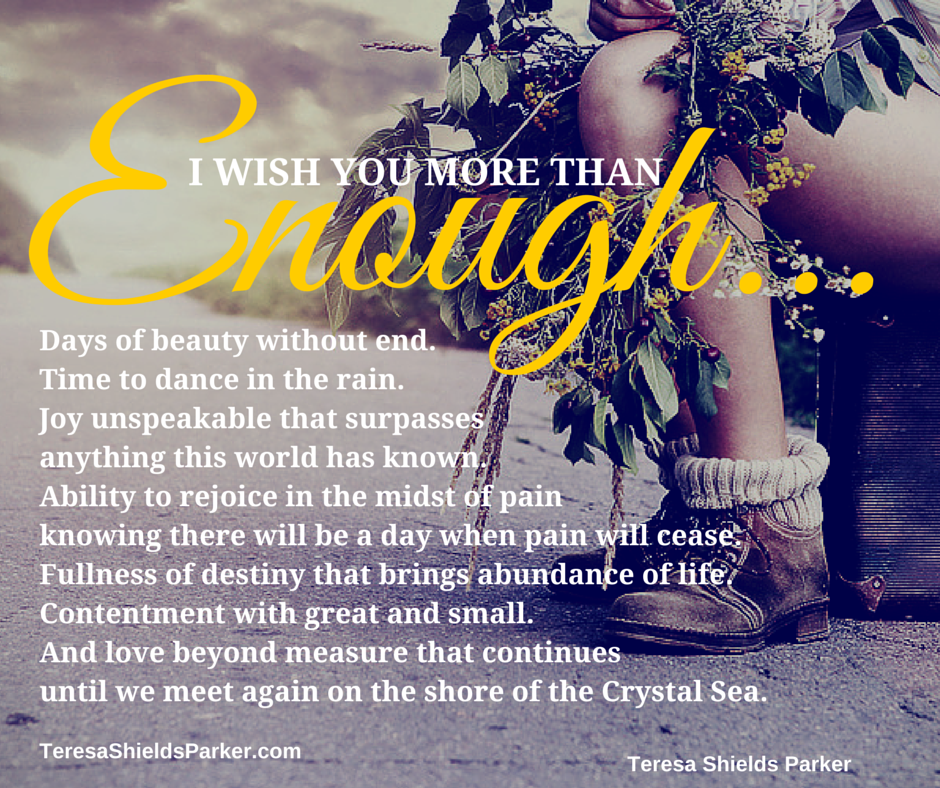 I wish you enough
There's a verse going around that is very poetic, but in my book is very wrong. The author is unknown, but here is what it says: "I wish you enough sun to keep your attitude bright. I wish you enough rain to appreciate the sun more. I wish you enough happiness to keep your spirit alive. I wish you enough pain so that the smallest joys in life appear much bigger. I wish you enough gain to satisfy your wanting. I wish you enough loss to appreciate all that you possess. I wish you enough hello's to get you through the final good-bye."
Enough to pay bills
I remember when my children were little and we were stretching every penny just to buy groceries and pay our bills. My prayer every day was, "Lord just give us enough to pay all our bills this month."
That's all I wanted and all I could hope for. My sights were set on just making it. I didn't even have the where withal to wish or pray for getting pit of debt, I just wanted to not miss a payment on the mounds of debt I currently had.
Being out of debt would have been the ultimate for me at that point. If I drew a horizontal line and said this is my goal to be out of debt, then my position at that point would have been below that or in minus position. A seriously minus position, I might add.
If I reached my over-the-top dream of being out of debt, guess where my position would be? It would be on the line. What would the numeral be attached to that line? It would be zero. My dream was to be at nothing.
Putting it that way, it didn't seem like enough was a big enough dream.
Abundance
What if I set my sights for being above zero and maybe having some money in the bank? Then I would be rising over nothing. I would be headed towards abundance.
Now, what if I didn't think about in terms of money, but in terms of living a full and meaningful life, having good relationships, doing fulfilling work, helping others become all they could be? Seen in those terms abundance could continue to rise off the charts.
There really is no end to abundance. We can take from abundance all we can handle and guess what? Abundance still remains. We never run out.
Love overflowing
What God intended for us is an abundance of love that fills and overflows every bucket we have. "As your spiritual strength increases, you will be empowered to discover what every holy one experiences — the great magnitude of the astonishing love of Christ in all its dimensions."1
"How deeply intimate and far-reaching is His love! How enduring and inclusive it is! Endless love beyond all measurement, beyond academic knowledge — this extravagant love pours into you until you are filled to overflowing with the fullness of God."2
This does not sound like a God who wishes us just enough.
Amazing future
God has His sights set for us on the ever-increasing slope upwards away from the line of just enough. Our dream extends just to paying the bills so the creditors don't call. God sees something entirely different for us.
"Never doubt God's mighty power at work in you to accomplish all this.He will achieve infinitely more than your greatest request, your most unbelievable dream, and exceed your wildest imagination! He will outdo them all for His miraculous power constantly energizes you."3
In order for all of this to take place, God orchestrates transformation and change for our lives. We cannot step into these unbelievable dreams without becoming new, without allowing His process to mold us. He knows that so He provides opportunities for us to be recreated into the image of His Son.
And when we allow Him to work His recreative magic in us, "We have become His poetry, a recreated  people that will  fulfill the destiny He has given each of us for we were joined to Jesus, the Anointed One. Even before we were born, God planned in advance our destiny and the good works we would do to fulfill it."4
I wish you what God wishes for you
I wish you what God wishes you. He wishes you and me more than enough if we believe in, cling to and adhere to Him.
So, I'm rewriting the saying. If you can, I encourage you to share this post and the graphic with everyone you know. It's my birthday wish. Yes, it is my birthday today.
My wish is that everyone understand that God has amazing, more than enough dreams for you and all those you love. They are endless and they go on for all eternity.
I Wish You More Than Enough
I wish you more than enough days of beauty without end.
I wish you more than enough time to dance in the rain.
I wish you more than enough joy unspeakable that surpasses anything this world has known.
I wish you more than enough ability to rejoice in the midst of pain knowing there will be a day when pain will cease.
I wish you more than enough fullness of destiny that brings abundance of life.
I wish you more than enough contentment with great and small. 
And, I wish you more than enough love beyond measure that continues until we meet again on the shore of that Crystal Sea. 
God's truth
Here's what I know, when we tap into what God wishes, we tap into truth. His hope is not wishful thinking. His hope, His wishes are the things dreams that come true are made of.
1 Ephesians 3:18 TPT
2 Ephesians 3:19 TPT
3 Ephesians 3:20  TPT
4 Ephesians 2:10 TPT
Teresa Shields Parker is a Christian weight loss author, coach, podcaster, and speaker, who has lost 250 pounds and kept it off since 2013. Her books include: "Sweet Grace: How I Lost 250 Pounds and Stopped Trying to Earn God's Favor," "Sweet Grace Study Guide,"  "Sweet Victory: Winning the Battle," "Sweet Surrender: Breaking Strongholds," "Sweet Journey to Transformation: Practical Steps to Lose Weight and Live Healthy", "Sweet Freedom: Losing Weight and Keeping It Off With God's Help," "Sweet Freedom Study Guide," "Sweet Change: True Stories of Transformation," "Sweet Hunger: Developing an Appetite for God," and "Sweet Excuses: Stop Lying to Yourself & Start Losing Weight." She also offers Overcomers Christian Weight Loss Academy and VIP intensive coaching. Don't miss her weekly podcast, Sweet Grace for Your Journey, where she shares tips from her personal journey of losing weight and discovering healthy living. Contact her at [email protected].