I am a person of faith, but sometimes I don't feel like I have much faith. These days, though, what faith I have is being multiplied by the Author of faith.
He's taking me to a different level of faith. I call it faith-squared. It's not an easy level.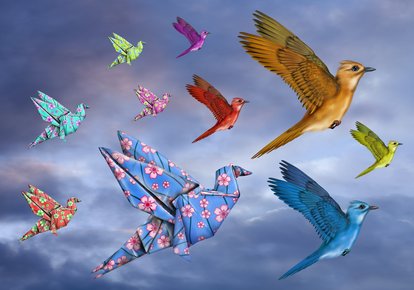 True confession: I worry. I over think. I become obsessed with what-if scenarios. With my daughter in Japan and communication lacking, my faith feels like it is wavering, nearly non-existent.
I told my friend, Pat Hardesty, I knew beyond a shadow of a doubt that God was watching over my daughter, but I just hate not being able to communicate.
Pat answered, "So faith has another level. That ouch hurts in a different part of the heart … did we know that part was there?"
It reminded me of years ago when I left home to go to college eight hours away. My mother wept big, gulping tears when they left me there.
To me it was an adventure, a time to be on my own. I didn't understand what the big deal was. However, this was in the dark ages before Internet when if you wanted to communicate you had to pick up a pen and write a letter (I could do that), put it in an envelope (where did I put the envelopes?), stamp it (that means walking to the bookstore, waiting in line and finding out if they even have stamps) and mailing it (where's the mailbox again?). I didn't get many letters sent.
Calling wasn't much better. Long distance calls were expensive and my days were varied and full. I didn't have time or money for calls.
It wasn't that I didn't want to communicate, life just got in the way. They knew I loved them and I was alive, right?
My parents trusted God to take care of me, in theory. They just wanted evidence He was doing what He said.
It is a different world today. We have instant everything and we expect instant responses. We have the Internet. We have cell phones. We can hear what's going on; keep up with life.
What happens when wifi service is not readily available, when there's no time to obtain a cell phone that works in a different country, when training is so difficult and long and hard that one can barely communicate when they do have service?
Faith, scripture says, is a substance (something real and tangible) of things (emails, phone calls, communications) hoped for (my desires).1
The thing I hope for is that my daughter is doing well in Japan, holding up under the rigors she's going through, bound for an adventure that will be a crucial building block in her life. I hope above all else that God has her wrapped in His protection and guidance.
It's easy to say I have faith but when there is little information to go with the faith, it takes faith to a whole new level, like Pat pointed out.
I'm in a class called faith-squared. The Teacher, says whatever faith you thought you had, I'm going to multiply by circumstances that keep you in the dark. When you don't know what's going on, when you don't have the evidence, do you still have faith that I'm doing what I said I'd do?
God said to me as my daughter's plane was leaving the Kansas City airport, "I will take care of our girl." Do I believe that? Do I have faith even when I don't have substance, even when I can't hold it in my hand?
Pat is right, it does hurt in a different part of the heart, one that begins and ends in God.
Did I know that part was there? In theory, yes. In practice, no.
Scripture talks about how nothing can separate us from the love of God. Today, something jumped out at me in the list of things that will not separate us from God's love—"our fears for today or our worries about tomorrow."2
This is the crux of the matter. I can conjure up many fears. I can manufacture scenarios. They come from my emotional fabrications. They are not real.
God hears, sees and knows what's going on with me. Jesus intercedes. God turns to the Holy Spirit and relays my unspoken request with His answer. "Continue to take care of our girl."
Because I can't see or touch what God is doing, I have to have faith to believe my daughter is being led by His hand. Faith is not an emotion, not a spoken word, it is much deeper than that. It is a knowing that resides in the center of all you are.
When it takes faith of a different level am I willing to go there even if it may tug at a place in my heart that hurts?
This new level of faith is the key that unlocks God's dreams for us and those we love. If we clutch too tightly, we will never have a glimpse of what those are. 

I can dream big, but it is nowhere near what God can dream. I want His dreams. I want greater than I can ask, think or imagine.3
If you want to go there , my Friend, it will take faith-squared.
What does faith-squared look like in your life? Are you willing to find out?
1 Hebrews 11:1 (NIV)
2 Romans 8:38 (NLT)
3Ephesians 3:20 (NIV)