The power of God can be an explosive fire in my life. It can if I want it to be. If I go after His kingdom with the violent zeal of a person on a mission, God promises the Kingdom of God and all the power that possesses will reside in me.
Paul told the Roman church to "be transformed, changed, by the entire renewal of your mind, by its new ideals and its new attitude, so that you may prove for yourselves what is the good and acceptable and perfect will of God, even the thing which is good and acceptable and perfect in His sight for you."1
That directive alone has the power to turn lives upside down, to bring about a total upheaval of everything we've ever thought or considered.
"Never lag in zeal and in earnest endeavor; be aglow and burning with the Spirit, serving the Lord,"2 Paul continues.

Zeal means to have "great energy in pursuit of a cause or objective." It is akin to what happens when a match is thrown into a forest of dry trees. Great energy springs forth with the potential to consume everything in its way.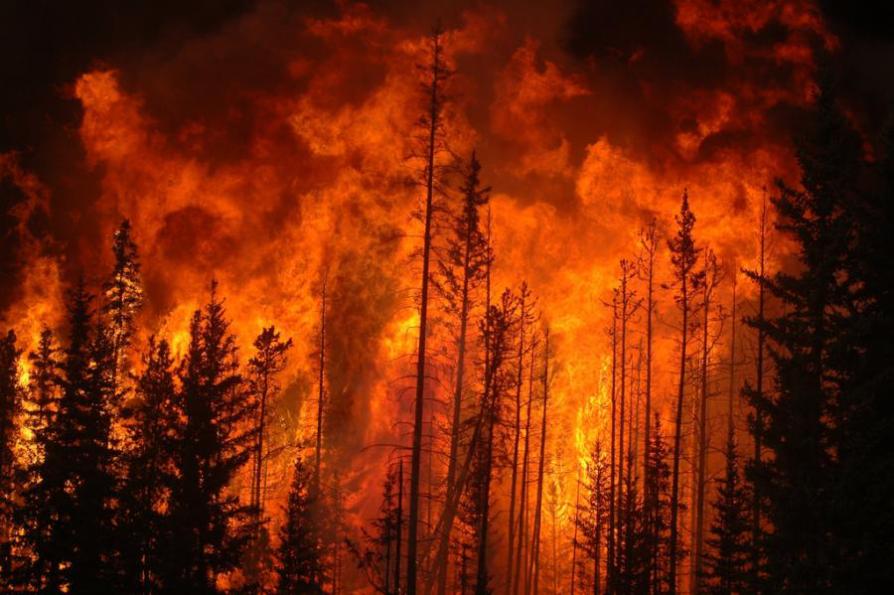 A fire running unchecked is violent, think rampant wildfires threatening house, cars, livestock, buildings, businesses and people. A fire with great energy and momentum is no respecter of what is in front of it. It burns everything.
Scriptures say the Kingdom of God is within you3 and the violet seize it by force as a precious prize.4  It makes me think of the kind of blaze that keeps burning no matter what or who is in its way.
Is that what should be happening within me in order to see the Kingdom of God come? And if so, what would that look like?
Jesus told the crowds "from the days of John the Baptist until the present time, the Kingdom of Heaven has endured violent assault, and violent men seize it by force as a precious prize—a share in the heavenly kingdom is sought with most ardent zeal and intense exertion."4
Again the word "zeal" comes up and rightly so. It is an important word on this faith journey.
Jesus was telling the people that John was one  who took the Kingdom of God by force. He was in prison at this juncture, soon to be beheaded for his zealous preaching.
He had thousands of followers. And yet he was a wild man living in nature. It was his strong, enthusiastic, prophetic words that people were attracted to. He knew what he believed and was not afraid to shout it from every available mountaintop.
Matthew Henry in his commentary on this passage explains in order come into the Kingdom, a person must "strive to enter.  Self must be denied, the bent and bias, the frame and temper, of the mind must be altered; there are hard sufferings to be undergone, a force to be put upon the corrupt nature; we must run, and wrestle, and fight, and be in an agony, and all little enough to win such a prize, and to get over such opposition from without and from within."
Entering the Kingdom of God is much more than joining a church, saying a prayer or walking an aisle. Entering the Kingdom is laying aside everything that gets in my way, the weight that so easily entangles me.5
It isn't meant to be an easy journey or "to indulge and ease triflers," as Henry says.
Applying these concepts to the Kingdom of God within us iz where the rubber meets the road.
What is keeping me and you from going full-out for God? What lead weight do we carry that precludes us from running the race with the full intent of winning?
If the kingdom of God is within me, as well as around me and near me, shouldn't I be violently demolishing arguments against God and taking every thought captive to the obedience of Christ?6
Shouldn't I be clawing at and tearing down strongholds I've erected within me? After all the Kingdom of God is supposed to reside within me, just as much as around me, isn't it?
The zealous, on-fire people that take the Kingdom of God by force are those like John the Baptist who cast aside conventional ways, seize the moment and never let go.
They approach setting up the Kingdom of God within themselves with such violent intensity that evil is repelled when it recognizes this person means business. Their intensity is so strong, no one can deter them from their mission.
The question then is am I, are you, willing to grab hold with extreme force and violent intensity to make sure the Kingdom of God rules within us?
What is one thing that would have to change in your life for that to occur? When would you be willing to start that?
1 Romans 12:2 AMP
2 Romans 12:11 AMP
3 Luke 17:21 AMP
4 Matthew 11:12 AMP
5 Hebrews 12:1-2
6 2 Corinthians 10:5
 is Teresa Shields Parker's new group on living healthy through a total renovation of body, soul and spirit. Teresa chronicles her journey in the memoir, Sweet Grace, and the practical application workbook, Sweet Grace Study Guide. Also, get a free chapter of her memoir at Teresa Shields Parker.com. Connect with her there or on her Facebook page.